HOSPITALITY MINISTRIES' LEADERS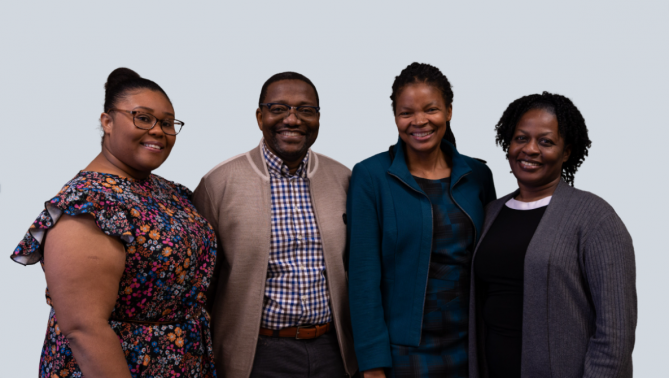 Terriann Caballero
Social Events Leader
 Malone Chaya
Ministry Leader
Del Chaya
Ministry Leader
 Roseline Etienne
Kitchen Leader
Research shows that new members who make at least six friendships are those who are still attending church at the end of the first year. Choosing to follow Christ as an Adventist Christian is a big change. The Sabbath impacts how the weekend is structured, leisure time activities and lifestyles change. Old friends may be unsupportive or even ridicule the choice of this "new church" so new friendships are vital. The hospitality team at Pinehouse Drive strives to provide a warm supportive environment in which new friendships and relationships can flourish. God asks us to love and care for one another and it is our mission to nurture healthy relationship though Christian hospitality by:
Helping church members find creative ways to express hospitality to visitors (new members and those who are in need)
Demonstrating love and acceptance in church life so others are comfortable and included
 
If God has blessed you in the following areas:
Hospitality: the ability to provide an open door, a genuine and warm welcome to others. It is accepting of others regardless of race or belief and shows no bias.
Helping skills: the ability to make an impact on those who may have questions or need directions.
Willingness to share: (whatever one has, even if it is meager.
A focus on the needs of others: the ability to recognise those who might be in need
A loving heart: towards those seeking relationship or
Courage: to risk developing relationships with others and you are looking to get involved in a ministry consider joining the team as appoint person for Hospitality and we would be glad to have you on board. 
 
Jesus said it best when He said, "Do to others what you would have them do to you" (Matt. 7:12).
---
POTLUCK TEAMS
Group 1
Group Leader: Galina Rotaru
November 11, 2023
Team Members:
Alicia
Elena Ivascu
Ina
Inonge Mwenda
Roxann Clarke
Tremaine Clarke
Inga
Nina
Zoe Makura
Darcie Richter
Inga Chircu

---
Group 2
Group Leader: Maria Villarosa
December 9, 2023
Team Members:
Olesea Bitca-Tabnncic
Rachel Ndayishimiye
Rekha Whittaker
Tatiana Manoli
Brenda Thompson
Carmen Thompson
Marina Terzi
Grace Lapierre
Nyle Diaz- Bade
Marcia Whittaker

---
Group 3
Group Leader: Marandina Slewley
January 13, 2024
Team Members:
Dianna Meek
Leonora Smart
Assefu Mebrahtu
Rumbi Chaya
Murunde Jane
Leedmira Bejenazi
Diana Tanasiiciuc
Apple Liano
Flezavete Coscerol
Margie Torniado
Lee Torniado

---
Group 4
Group Leader: Robin Welch
October 14, 2023
Team Members:
Bianca Manoli
Ruth Fikocoma
Naci Nachicobe
Natasha Rotaru
Elaine Bubnick
Liliranna Mistrana
Josellyn Irumva
Pacmoha Turner
Elena Ivascu
Charim Cabinto
Zianda Dewa

---
Group 5
Group Leader: Liudmila Ursuleac
September 9, 2023
Team Members:
Cristina Vrabie
Yenny
Omeishe
Hilldah
Ropa Chaya
Ekaete Alcpan
Ludmila Dubeac
Sally Bacus
Nina Balaur
Livia Ursuleac
Janet Kazaskas

---
CONTACT US
The Hospitality Ministries would love to hear from you, please send us your feedback and your suggestions.